Chicken Ramen Factory
Paid service

Reservation required

Age restrictions
Make Chicken Ramen by hand starting with kneading, spreading, and steaming the wheat flour and then drying it with flash frying method. After experiencing the process that led to the invention of the world's first instant noodles, you can take your freshly made instant noodles with you and enjoy its delicious taste at home.
Location :
CUPNOODLES MUSEUM OSAKA IKEDA 2F
Participation fee :
Elementary school children: 600 yen / Junior high school and up: 1,000 yen (tax included)
Admission is free when used as an elementary, junior high, or high school educational activity.
Every participants recieve a Hiyoko-chan (the Chicken Ramen mascot) souvenir bandanna.
Restriction :
All visitors over the age of elementary school students (over 6 years old)
Preschoolers are not allowed to participate in the workshop.
Group sizes :
Up to 48 persons per session
Schedule :
9:30 / 11:00 / 13:15 / 14:45
How to Make Reservations
Reservations for up to 20 persons can be made by our website or telephone from 10:00, up to three months prior to the desired date.
Reservations for groups of 21 persons or more (group reservations) are accepted only by telephone.
If you are considering taking elementary, junior high or high school students to the facility for educational purposes, contact us by telephone.
Reservations for up to 20 persons
Website (accessible 24 hours a day)
CUPNOODLES MUSEUM OSAKA IKEDA
Telephone
CUPNOODLES MUSEUM OSAKA IKEDA
Reservation-only line
Reception time: 10:00 - 16:30 (museum holidays excluded)
Reservations for 21 or more persons (group reservations)
CUPNOODLES MUSEUM OSAKA IKEDA
Reservation-only line
Reception time: 10:00 - 16:30 (museum holidays excluded)
If CUPNOODLES MUSEUM OSAKA IKEDA is closed on the day three months before the desired date, please contact the museum after 10:00 on the next day it is open.
If there is no day on the calendar three months before the desired date, then contact us on the first day the museum is open the following month.
Once a session's capacity is filled, reservations are closed.
How to Make Your Original Chicken Ramen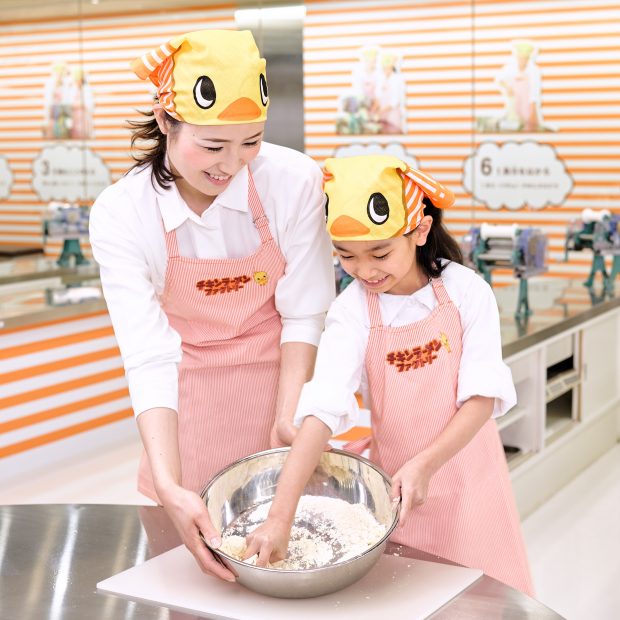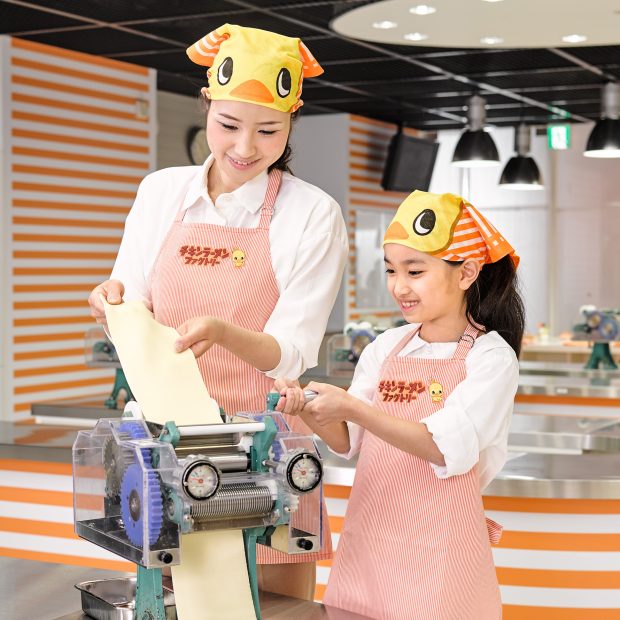 Thin out the dough sheet using a noodle maker.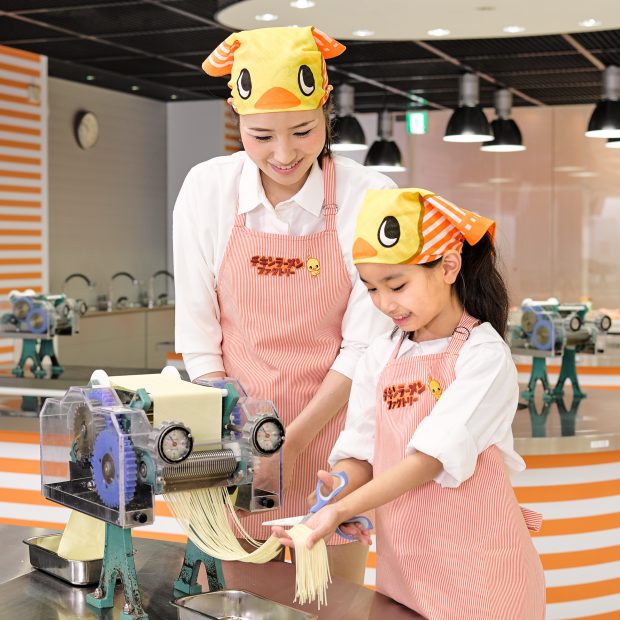 Cut the dough sheet into noodles.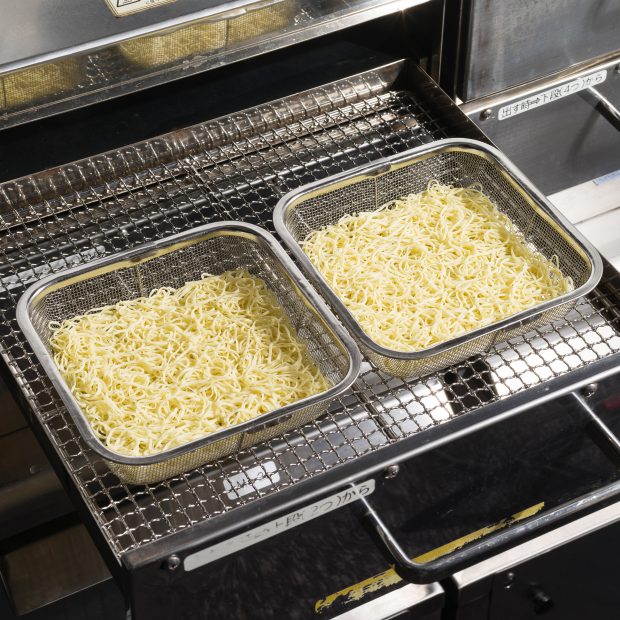 Place the noodles in a colander and steam.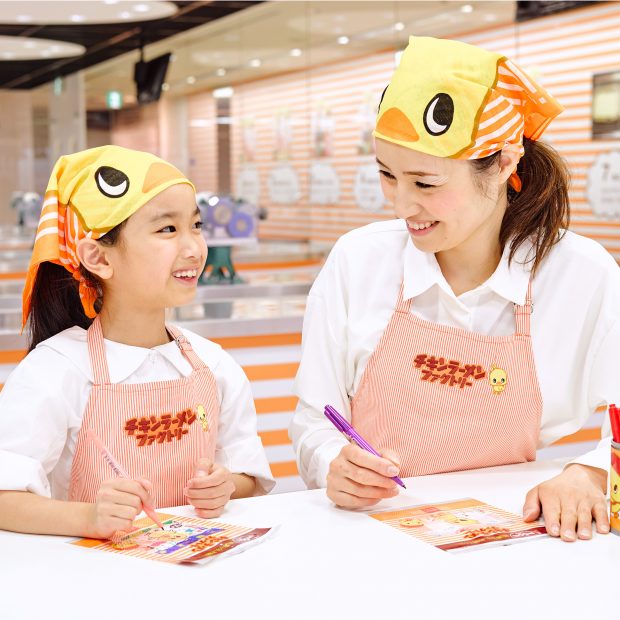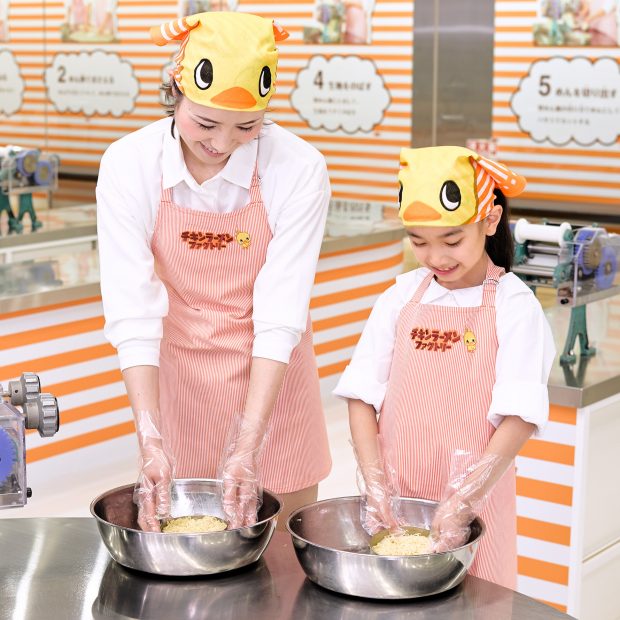 Untangle the noodles, add seasoning, and from them into a block.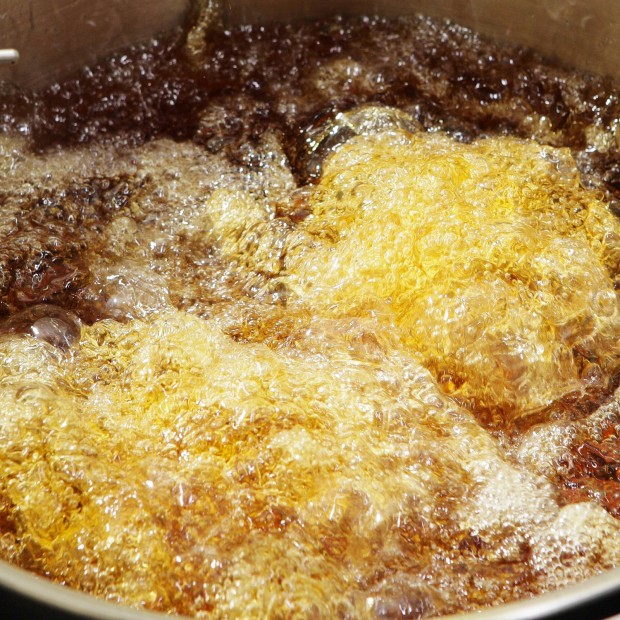 Fry in oil.
(flash frying method)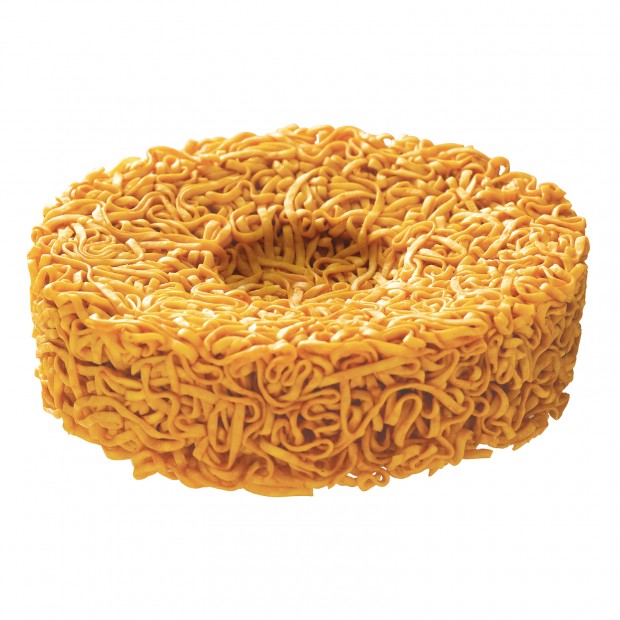 Your Chicken Ramen is finished!
Museum staff members perform steps 4 and 7.
Notes
Prior reservations

Reservations for one visitor only cannot be accepted.
Participants work in pairs. First, second, and third graders of elementary school are required to work with someone of junior high school age or older.
Notes to visitors

Please come to the first floor counter at least 10 minutes prior to your reservation.
You may be asked to present your ID.
If you fail to satisfy our conditions for participation in the Chicken Ramen Factory due to reasons such as differences in the composition of your group from what was applied in your reservation, the participation of your group may be declined.
Only participants are allowed to enter the workshop venue.
Aprons and other necessities are available. You do not need to bring anything.
Exhibitions & Attractions