NOODLES BAZAAR -WORLD NOODLES ROAD-
The menu for this food attraction features eight varieties of noodles that Momofuku Ando encountered during his travels in search of the origins of noodles. Enjoy the noodle culture that has spread to every corner of the world in an ambience that is like an Asian night market.
Location :
CUPNOODLES MUSEUM YOKOHAMA 4F
Opening hours :
11:00 – 18:00 (last order at 17:30)
Prices :
500 yen per serving (half-sized bowl)
Mini-Chicken Ramen: 250 yen per serving
International dessert: 400 yen per serving
International juice: 200 yen per glass
Self-service drink: 250 yen
All prices include consumption tax.
Tour the NOODLES BAZAAR -WORLD NOODLES ROAD-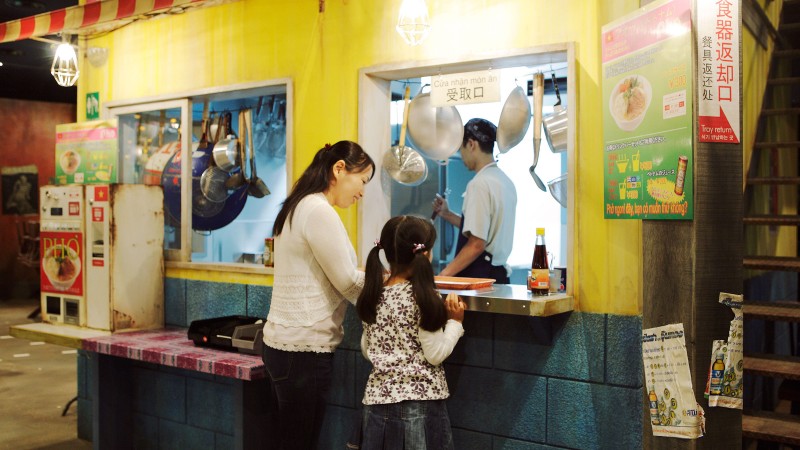 NOODLES BAZAAR has eight stands. All items available at the stands have authentic flavors supervised by Mr. Naomichi Ishige, a scholar of the National Museum of Ethnology.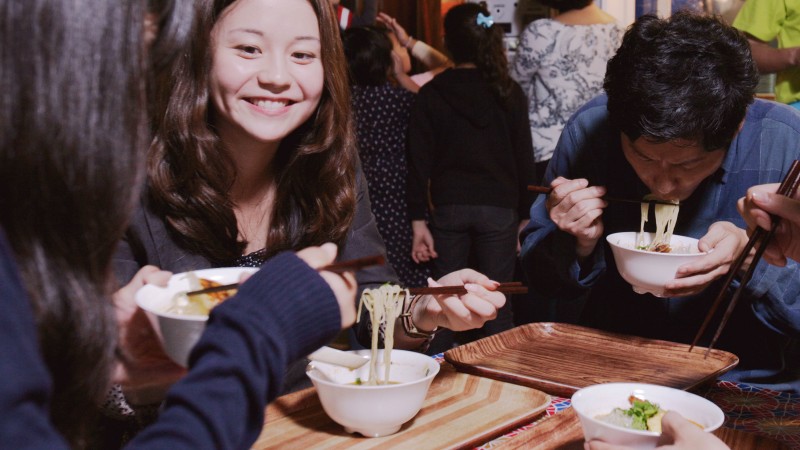 All items are served in a half-sized bowl. This is intended for visitors to be able to taste many different noodles from different countries, priced at 500 yen per serving. Rare beverages from different countries are also available.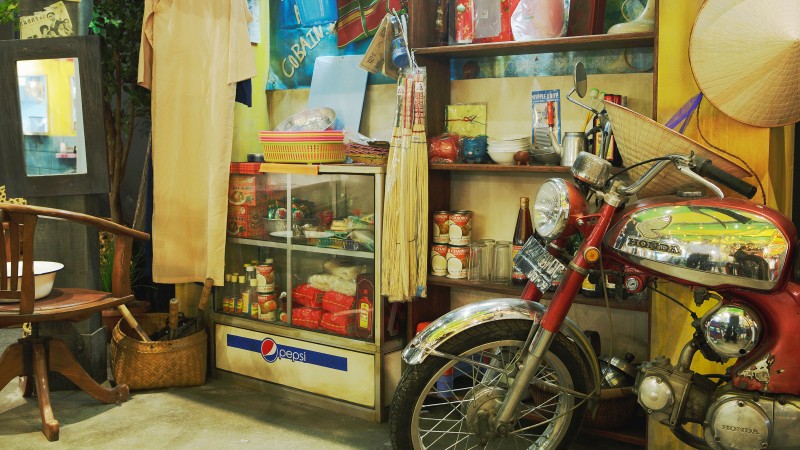 NOODLES BAZAAR is full of furniture, tools and accessories from Asian countries. Simply spending time there is an enjoyable experience.
Food Menu
Pasta (Italy)
The chewy noodles are made from durum semolina flour from Southern Italy. The tomatoes are grown under abundant Mediterranean sunlight are instrumental in the flavor.
Lagman (Kazakhstan)
Lagman is a traditional meal from Central Asia, the Western end of Asia. Noodles from areas along the Silk Road characteristically contain mutton. Oyster sauce is a hidden flavor.
Lanzhou Beef Ramen (China)
This is a popular noodle item in Lanzhou, a city in the Yellow River basin. Chewy noodles and cubed beef are in a soup that contains Sichuan pepper, red peppers, five-spice powder and many other spicy ingredients.
Cold Ramen (Korea)
Noodles from the Korean Peninsula are the origin of Japanese cold noodles. In delicate beef bone soup, acorn powder noodles are topped with roast pork, vegetables and kimchi. The noodles do not contain buckwheat flour.
Pho (Vietnam)
A classic breakfast item in Vietnam, pho contains beef and many vegetables. Nuoc mam, the seasoning made from fish, and the coriander smell very good.
Tom Yum Goong Noodles (Thailand)
It has the flavor of nam pla, a condiment made from fermented fish and lemon grass, kaffir lime leaves. All of these mix well together and create a perfect international taste.
Laksa (Malaysia)
Malayan and Chinese food cultures are blended in this unique noodle dish. The coconut milk-based soup is slightly sweet and its curry flavor comes from the use of many spices. (This is not hotness from red pepper.)
Mie Goreng (Indonesia)
The punchy flavor is unique to a hot-weather country. Mie Goreng is seasoned with sweet ketchup manis. "Mie" means noodles and "Goreng" means fried.
Mini-Chicken Ramen
Original chicken bone soup with roasted soy sauce flavor.
Toppings: Egg, Roasted pork, Cheese, Fried onion, Kimchi, Vienna sausage
Exhibitions & Attractions